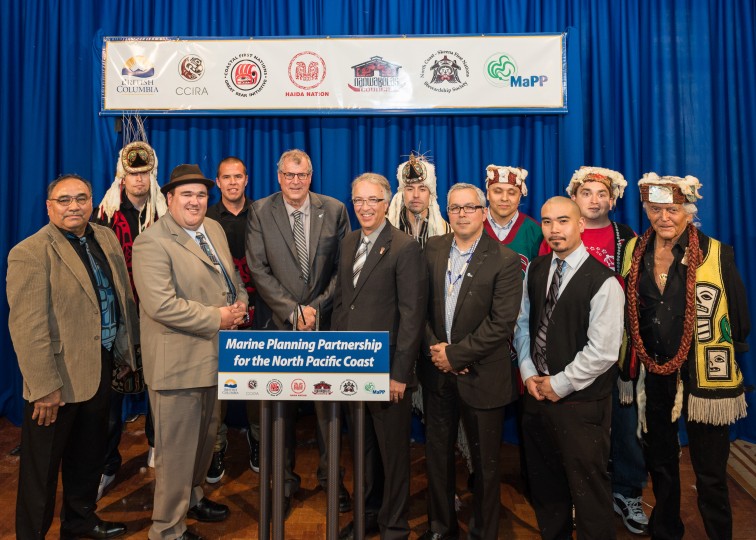 First Nations and Province complete marine plans for British Columbia
For the full story visit the Marine Planning Partnership's (MaPP) website: http://mappocean.org/
VICTORIA – Marine management took a significant step forward today, with the completion of plans under the Marine Planning Partnership (MaPP) for the North Pacific Coast; a co-led partnership between the Province of B.C. and 18 coastal Nations.
The MaPP plans provide recommendations for key areas of marine management, including uses, activities and protection and will inform decisions regarding the sustainable economic development and stewardship of the coastal marine environment in the plan areas, which extend from Haida Gwaii to Campbell River on Vancouver Island.
The marine plans do not address management of uses and activities that the Province considers to be federal government jurisdiction. Issues requiring federal government involvement would be subject to consultations with the federal government. MaPP is comprised of four separate but complementary sub-regional marine plans – Central Coast, Haida Gwaii, North Coast, and North Vancouver Island – that were developed collaboratively by all partners and were shaped by robust stakeholder advisory processes and engagement with coastal residents and other members of the public. This included public town hall meetings, extensive consultation with stakeholders from a variety of marine sectors, and guidance from members of the marine science and technical communities.
The result is a set of innovative marine plans that will advance human wellbeing, economic opportunities and ocean conservation in a region boasting globally significant ecosystems. The MaPP marine plans include:
Management objectives and strategies that support positive change and reinforce our approach to decision-making, stewardship, economic development and healthy coastal communities.
Spatial zoning that identifies marine areas for special uses, protection and general use.
Plan implementation, monitoring and amendment information which describes how we will move forward with the plans and how changes can be made
The Province and First Nations have been conducting resource planning in this area for many years, and extending this collaborative relationship to marine and coastal areas will improve consistency in the approach to resource management for the entire region. The partners are now focused on drafting implementation agreements for future action.
Quotes:
Steve Thomson, Minister of Forests, Lands and Natural Resource Operations –
"Today's agreement between the Government of B.C. and 18 First Nations marks a milestone for the sustainable economic development and stewardship of British Columbia's coastal marine environment. I look forward to working with First Nations as we move toward implementation. The marine planning process has been an opportunity to continue to build productive relationships with First Nations."
John Rustad, Minister of Aboriginal Relations and Reconciliation –
"This collaboration recognizes the important role of coastal First Nations as stewards of the marine environment and as partners in supporting the health of coastal communities. The Marine Planning Partnership has engaged residents and stakeholders from Vancouver Island to Haida Gwaii, and is to the benefit of all British Columbians, now and for future generations."
kil tlaats 'gaa, Peter Lantin, President of the Haida Nation –
"The marine plans are a significant step forward in protecting the oceans around us for future generations and ensuring sustainable use. The ocean around us is experiencing many threats including marine development, climate change, and unprecedented changes in productivity of fisheries. The marine plans provide a blueprint for adapting to these changes. We congratulate the Province, our First Nation partners and our many supporters for their dedication and foresight in making this happen."
Don Roberts, Chief Kitsumkalum Nation, Chair of the North Coast-Skeena First Nations Stewardship Society –
"The Marine Planning Partnership provides an opportunity for the Tsimshian and Haisla to work closely with the provincial government on managing marine activities and marine pressures in our territorial waters. We now look forward to working with the federal government on marine issues that are of interest to the Tsimshian and Haisla, the Government of Canada, and the Province of B.C."
Doug Neasloss, Governance Representative, Central Coast Indigenous Resource Alliance -
"MaPP is an excellent example of what different levels of government can achieve when they work collaboratively toward the protection and sustainable management of our territorial waters. The Heiltsuk, Kitasoo/Xai'Xais, Nuxalk and Wuikinuxv Nations look forward to the implementation of the Central Coast Marine Plan and the continued commitment of the governance partners."
Dallas Smith, President, Nanwakolas Council –
"Over the years our Nations have worked together with the Province to build a common land use vision that will lead to certainty and sustainability. These Marine Plans are a vital step to including the marine environment into that common vision."
Art Sterritt, Executive Director, Coastal First Nations – Great Bear Initiative –
"Our coast deserves the world's best stewardship! This will take strong leadership. These plans are a reflection of our commitment to work with B.C. and stakeholders to secure a strong future for communities and ecosystems."
Learn More: